It's not everyday you have a captive audience of 400 Israelis willing to listen to your trial and error approach to living in Israel. So, after winning a stand up contest that the New Israel Fund and Bet Hillel hosted in May, I decided to make my five-minute debut about just that: the new immigrant on the block. I was honored to take part in the stand up night, with the other five outstanding and hilarious women that took to the stage. Even better was the fact we were opening for the famously talented Orna Banai. What I also appreciated was how warm the audience was, even though I did my stand up in English. They listened and laughed, and I think they also could relate, even if they are not new immigrants. Bureaucracy is still bureaucracy.
It was a night I will never forget. And an opportunity I hope to have again in the near future.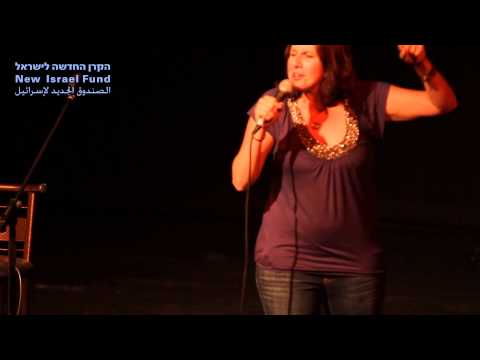 To see the other ladies click here. 
Easily Amused, funnnny, If I ran Israel, Jerusalem Scene, Trying to fit in, Videos, Wisdom Gained | Tags: aliyah, bet hillel, betuach leumi, Bureaucracy, fax machine, funny, humor, Israel, lessons learned, ministry of interior, new immigrant, orna banai, post office, stand up, the new israel fund
Don't miss the next article. Subscribe to The Big Felafel's updates by RSS or Email.